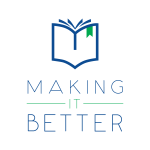 MAKING IT BETTER GUILD LUNCHEON SOWS THE SEEDS OF LITERACY  
 Friday, March 2, 2018 – 10 am – 2:30 pm – Junior League of Houston – 1811 Briar Oaks Lane
 HOUSTON – January 22, 2017 – 85% of all juveniles who interface with the juvenile court system are functionally illiterate, but Making It Better is working to change that statistic. By providing critical reading intervention programs for children in Houston's under-served communities, the organization is sowing the seeds of literacy in an effort to grow the next generation of proficient readers. For more than a decade, Making It Better's mission has been to transform lives through effective literacy programs, mentoring and enrichment opportunities for at risk youth in our city. To help sustain and grow their programs, the organization is asking for the community to support its 5th annual Making It Better Guild Luncheon – Sowing Seeds of Literacy. The fundraiser will take place Friday, March 2, 2018 from 10:30 a.m. to 2:00 p.m. at the Junior League of Houston, located at 1811 Briar Oaks Lane.
Freudenberg e2 will be honored at the luncheon for their incredible support and dedication to helping the nonprofit through funding and service. Keynote speakers will be Yvonne T. Streit and Jana Mullins, authors of Everybody's Got a Seed to Sow – The Brookwood Story. The book tells an inspirational story of the founding of the Brookwood Community, a residential program for adults with disabilities founded several decades ago.
New this year, attendees will be able to shop to their hearts' content in the Guild Shopping Boutique. Some of Houston's best boutique merchants will be present with wonderful items to entice attendees. Shopping will take place at 10:00 a.m. to 11:20 a.m. and will resume from 1:00 p.m. to 2:30 p.m.
Tickets are currently available for purchase starting at $65. For additional information and sponsorship opportunities, please contact Kim Lanman at kimlanman@mibtx.org or 713-504-6141.
Making It Better is a nonprofit transforming communities by empowering children and families through literacy, leadership and life skills. The mission of the Making It Better Guild is to support the organization by assisting with program activities and events, helping to raise program funds, and spreading awareness of the organization.