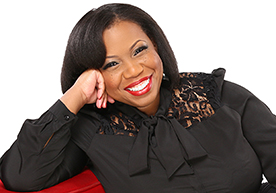 Misty Starks is an award-winning writer, video producer, CEO of Misty Blue Media and President of 3B Resources Group Public Relations, which is named one of the top PR firms in Houston.
Misty has served as a communications consultant and writer for Fortune Global 500 energy companies and industry leaders in education and human resources. Prior to her work in corporate America, Misty was a producer for the internationally syndicated television program, Judge Alex. She was also a Web producer for Black Entertainment Television (BET), where she created digital content for the network's flagship shows.  Misty has served as a television news writer and producer at KRIV-TV in Houston and at New York 1 News in New York City. Her written work has appeared in various publications in print and online including The Huffington Post, Essence.com, Walker's Legacy and others, as well as in national commercials for television and radio.
Misty is the recipient of various awards for communications excellence from several organizations including the International Association of Business Communicators (IABC), the American Marketing Association (AMA) and the Public Relations Society of America (PRSA). She has been quoted by American Express Open Forum and often serves as a speaker and panelist. Misty is president of the Black Public Relations Society and a member of the Public Relations Society of America and the National Association of Black Journalists.
A native of New Orleans, Louisiana, Misty holds a Bachelor of Arts degree in communications from Howard University in Washington, D.C. and a Master of Liberal Arts degree in communications from the University of St. Thomas in Houston, TX.